yes, it's true.....
i love my husband.
and even better than that,
i
like
him.
i
am happiest
when we are doing something together (or as a family).
i
am thankful
everyday that i met him,
moved across the country to live near him,
and spend my life beside him.
with father's day coming up (june 19),
i find myself reflecting on the ways i
appreciate jon as the father
to our children:
1. the way he loves
his little girl
:
his gentle touch
he even brushes her hair at bedtime.....i know, too much sweetness!
his playful spirit--
he admits he's a bit of a kid himself....
his love for adventure
his patience when teaching her something new
and his good example of a man who loves Christ.
love their shadows!
2. the way he loves
his little guy:
his protectiveness,
his dreams of taking his son hunting and fishing like his dad did,
and his absolute devotion to our family!
is he
perfect?
no, but neither am i and he
loves me still.
thank you for that and for always choosing us over anything else this world has to offer.
we love you to the moon and back!~
************************************************************************
linking to
alexandria rose's
: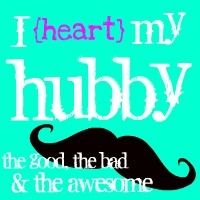 tell me what you appreciate about your hubby and then link up, too!