graduation season
is in full force these days.
it has me reflecting on where i was,
what i was thinking,
what i believed about the world and my future when i graduated. (almost 10 years ago--eeks!)
i graduated from a public high school in 2001
and from Indiana Wesleyan University in 2005.
at both commencement ceremonies i remember feeling very similar feelings:
i was confident (yet, nervous),
determined (yet, wavering),
happy (yet, lonely),
and terrified of the unknown that was to come.
i'm sure i was full of excitement about
"all my future holds"
and (scared to death) of how i was going to be able to CONTROL it all.
thankfully, i realize now, that i don't have to be in control
and the God of the Universe is much better at the job anyway.
i know i was hoping to meet the "perfect man"
and live happily ever after (they don't call it a M.R.S. Degree for nothing!).
slowly, i'm realizing that (while i AM blessed with a great guy),
my life needs to reflect and be fully guided by the One and Only perfect man--Christ.
i'm sure i was encouraged to "dream big"
and be the generation that

"changes the world."
nothing wrong with dreaming and working hard,
but, i realize now, that without an eternal focus and purpose, it's all just "chasing after the wind (ecclesiastes 1:14)."
this
really
got me thinking
(based on the book of Ecclesiastes).
certainly, i'm not trying to say i have it all figured out, but even being a believer in my younger years, i wish somebody would've told me these truths in such a clear presentation.
Under the Sun, Part 5: Commencement
from
Reston Bible Church
on
Vimeo
.
you didn't just scroll over the video, did you?
it's ok, i'll give you a sec to go back and listen to it........(it's worth your time, trust me)
some
hard stuff to hear
, right?
but deep down we all know
it's true.
wisdom, power, money, fame, pleasure are what most people set out in life to accomplish.
yet, why do so many of us who achieve it
still feel miserable?
because we're living
"under the sun"--without God
and without an eternal purpose.
let this be an encouragment to you (and to me) to
seek the things of God
,
set priorities and goals that
glorify Him
,
and
be able to stand in confidence knowing that when we live "above the sun"
is when we truly find all that our Future holds,
ways to really change the world,
and our forever Love.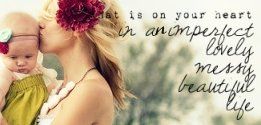 linking up here on friday!